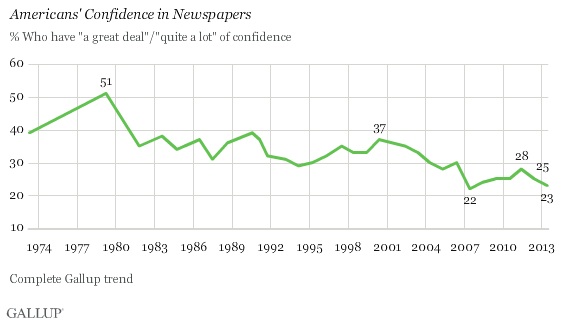 Gallup: Only 23% of Americans trust newspapers, TV news | Poynter
You want the good news or the bad news first? The bad news? Okay: It seems only 23 percent of Americans have "a great deal" or "quite a lot" of confidence in newspapers, according to a Gallup poll.
The good news? We're not HMOs (19 percent), or organized labor for that matter (21 percent). Oh, wait.
Also, liberals put more faith in newspapers than TV news, but for conservatives it's the opposite.
The head-scratcher? Public schools are in the middle of the pack at 29 percent. It's those devious kindergarten teachers dragging them down.
Wildfire Video
Watch: Fire Team Confronts Creeping Black Forest Flames to Save Family Home | Colorado Independent
Here's a pretty amazing video from the Colorado Springs Fire Department of a crew protecting a house from the Black Forest fire.
Firefighters on the Structure Protection Strike Team stand like sentinels around the house deck as the fire crawls flashing slowly along the ground toward them.
The Future of Unions
Do private-sector unions still have a future in the U.S.? | Washington Post
It might be time for labor unions to just hunker down and wait.
"Wait for the workers to say they've had enough," Yeselson advises. "When they demand in vast numbers collective solutions to their problems, seize upon that energy and institutionalize it." The big question, of course, is what that moment of social upheaval might look like — or whether anything like the worker unrest in the 1930s is even possible today.
Pay to Play
At Theme Parks, a V.I.P. Ticket to Ride | New York Times
It seems theme parks have become combatants in the class war.
Theme parks have traditionally been the ultimate melting pots. Tourists, retirees, rowdy teenagers, families and fathers who would rather be golfing are all thrown together in an egalitarian experience in which the line for one is the line for all, and cotton candy is the food of the masses. Not anymore.
Trickle-down Economics, RIP
The Middle-Out Moment | Democracy: A Journal of Ideas
It's high time for "middle out" to replace "trickle down" as America's economic model.
At first blush, the claim that politicians need to take the needs of the middle class more seriously might seem like pushing on an open door. After all, every stump speech has lines about "saving the middle class" or "helping Main Street, not Wall Street." But the actions of elected officials have seldom matched the rhetoric. Vice President Biden is fond of saying, "Show me your budget, and I'll tell you what you value." By those terms, not to mention the tax code, we have for decades valued corporations and the wealthy as the engines of growth, as job creators, and as most worthy of assistance. The results are familiar: moribund income growth for low- and middle-income Americans and soaring income inequality.
The Oracle of Omaha Bullish on Newspapers
Head of BH Media Group speaks about strength of newspaper industry | Tulsa World
And lastly, I wouldn't bet against Warren Buffet.
In the past, newspapers have done a lousy job of requiring customers to pay for digital content. The industry needs to do some recovery on that front, he said.

"Content cannot and will not be provided for free," Kroeger said. "We spend millions of dollars gathering, editing and distributing content that can't be found anywhere else."