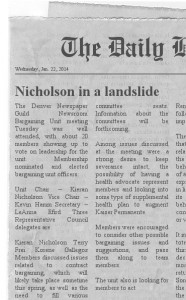 The Denver Newspaper Guild Newsroom Bargaining Unit meeting Tuesday was well attended, with about 20 members showing up to vote on leadership for the unit.
Membership nominated and elected bargaining unit officers:
Unit Chair – Kieran Nicholson

Vice Chair – Kevin Hamm

Secretary – LeAnna Efird
Three Representative Council delegates are:
Kieran Nicholson

Terry Frei

Korene Gallegos
Members discussed issues related to contract bargaining, which will likely take place sometime this spring, as well as the need to fill various committee seats. Information about the committees will be forthcoming.
Among issues discussed at the meeting were a strong desire to keep severance intact, the possibility of having a health advocate represent members and looking into some type of supplemental health plan to augment Kaiser Permanente.
Members were encouraged to consider other possible bargaining issues and suggestions, and pass them along to team members.
The unit also is looking for members to act as stewards; if you're interested, please contact a unit officer, steward or Tony Mulligan (contact information can be found here). Go to the Guild's FAQ page for information about being a steward.
Thanks to everyone in attendance — the solid turnout is encouraging and a great start.