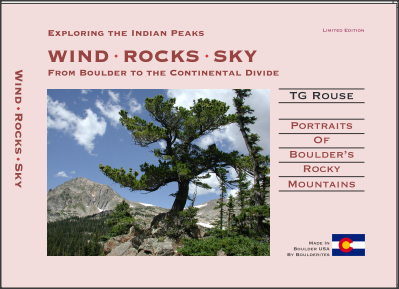 The first-ever photo book of the Indian Peaks Wilderness and nearby area launched on Kickstarter September 1.
Fourteen years in the making, the Indian Peaks Photo Book: Wind Rocks Sky is an exploration of the mountain area between Boulder and the Continental Divide by photographer TG Rouse.
kickstarter.com/projects/367454165/indian-peaks-photobook-wind-rocks-sky
Limited Edition hard cover, individually numbered as one of the First 1,000 printing.
Standard Edition softbound.
The Kickstarter campaign period will run until October 1 during which time copies of the book are available as "rewards" to "backers." The book will not be sold in book stores.
The book is an example of micropublishing: titles in small runs for specialty markets. Made in Boulder by Boulderites with hard-covers bound by Denverites, this book is 100% made in Colorado.
Contact: tomrouse@comcast.net 720.253.8240