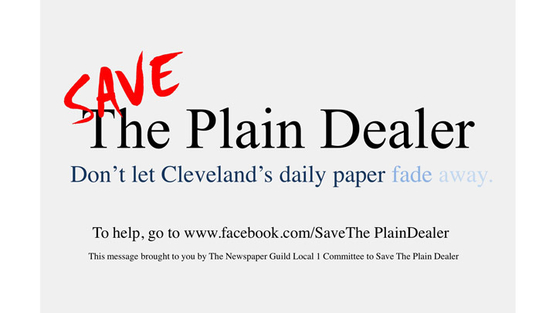 OWNERS OF THE Cleveland Plain Dealer have announced plans to gut the newsroom staff by one-third — 58 positions from a newsroom of 168. The number of days the paper is published might be cut, too.
If that playbook sounds familiar, it should — the owner is Advance Publications, the same outfit that laid off some 600 people at the New Orleans Times Picayune and its three papers in Alabama, and ended daily publication.
[After Advance announced that plan, Digital First CEO John Paton wrote "
In Defense of the Times-Picayune
."]
Staff at the Plain Dealer knew cuts were coming and started a "Save the Plain Dealer" campaign | Facebook page. There also is an online petition at change.org.
In a post on the Facebook page, organizers of the campaign say:
Friends and supporters, we wanted to let you know that The Plain Dealer has told the Guild it plans to reduce the number of Guild members in the newsroom to 110 next year. Guild members are the heart of the paper. They report, photograph, copyedit, design, draw, create graphics, archive information, edit and so much more. The reductions, which represent about 1/3 of our membership, would be devastating to the news-gathering operation.
One a Day Keeps Ignorance at Bay
Christine Haughney wrote a good piece about the Plain Dealer's situation in the New York Times' Media Decoder blog, including this hoppy tidbit:
Among the more lively efforts to stave off a reduction in the print schedule is a "Save The Plain Dealer" party planned for Thursday night at the Market Garden Brewery and Distillery. The brewery is releasing a new beer, 7-Day Lager, which it says is "best when enjoyed daily, because one a day keeps ignorance at bay."